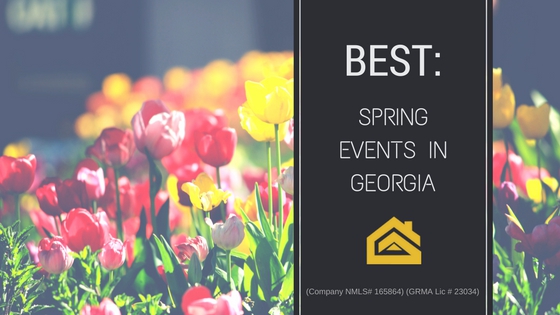 The Best Spring Events in Georgia
Spring in Georgia is gorgeous! Here are some of our favorite ways to enjoy it!
---
Spring at Gibbs Gardens
Gibbs Gardens, a sprawling collection of gardens in North Georgia, is always beautiful, but in the spring it's particularly breathtaking! Between March and April, 20 MILLION daffodils come into bloom and paint the rolling landscape with colors you won't want to miss!
Atlanta Dogwood Festival
Georgia's native dogwood trees bloom in the spring and are celebrated at the annual Dogwood Festival! With live music, arts and crafts booths, food vendors, and activities for the whole family, this free event is a great way to get out and enjoy what spring has to offer!
Pick-Your-Own Fruit at Local Farms
Picking your own fruit in the spring is a great tradition in the south, and Georgia is no exception! Head on over to a local farm to pick your own peaches, strawberries, blueberries, or whatever is in season! Check online to see where the closest pick-your-own farm is located, and you may be surprised how many options there are!
Macon Cherry Blossom Festival
Each spring, the city of Macon, Georgia is blanketed with a pink and white canopy of blooming Cherry Blossom trees! During the annual Cherry Blossom Festival, you can enjoy a range of things from food trucks and craft booths, to live entertainment, hot air balloons, parades, and more!
St. Patrick's Day in Savannah
It's a bit longer drive from North metro Atlanta, but the St. Patrick's Day Parade and celebration in the coastal city of Savannah is something everyone should do at least once! The world-renowned parade last for hours, and the energy and spirit is one-of-a-kind! Enjoy the parade with the family, then enjoy a night out on the town!