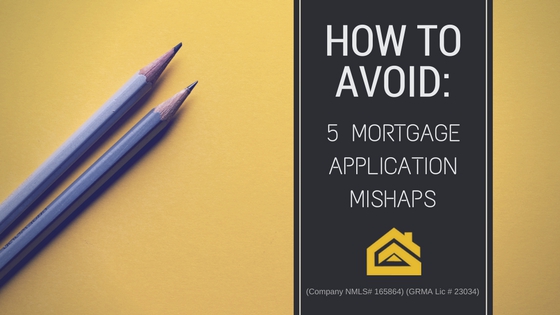 5 Common Mortgage Application Mishaps
And How to Avoid Them
---
1. Missing or Late Documents
Before and during the mortgage process, your broker or lender will ask for tons of documentation. Sometimes, the documents you provide may prompt the need for more documents. It's important to stay in touch with your broker or lender throughout the process, and promptly provide information when requested. The mortgage loan process can be complicated, and keeping up with what your broker or lender ask for will help smooth the process!
2. Applying for or Closing Credit Accounts
The process of purchasing a home can be exhilarating, which can lead to other exciting things like making big purchases of appliances or furniture, or even applying for a new line of credit. But be careful! If you make a large purchase on credit, apply for a new line of credit, or even close an existing credit line, it may impact your ability to close on a home purchase. Often, lenders will take a final look at your credit just before closing, and any new credit information may cause a delay or, at worst, put your loan in jeopardy. So it's better to wait until after closing to make any significant purchases or changes to your credit!
3. Quitting or Changing Jobs
Just like recent changes to your credit can impact your ability to finalize a loan, quitting or changing jobs before closing on a home purchase can cause problems. Employment is one of the most important factors in qualifying for a certain mortgage loan, and making sure your employment remains steady until after closing can save you from headaches or disappointment when it comes to your home purchase.
4. Ignoring Your Credit History
Searching for a home to purchase without checking your credit first, is like going skydiving without checking your parachute. You MUST check your credit history, and if there's anything wrong, you need to work on fixing those problems before you try to get a loan and purchase a home. You can check your credit history for free at AnnualCreditReport.com, and for a small fee you can get your credit score there, too. Your mortgage broker can help explain what your score and history will mean when it comes to rates and qualifying for various types of mortgages.
5. Not Shopping Around
If you don't shop around for your home mortgage, you will likely end up paying more in interest and fees than if you had shopped around. But what you may not know is that a mortgage broker will take care of the complicated shopping for you, and present the absolute best rates and terms available from several different lenders. That way, you can be sure you're not falling into predatory lending or missing out on better rates! The Mortgage Source is a licensed, independent mortgage broker, and is happy to answer any questions you may have about mortgage brokers and what loans you may qualify for!